Any links on this page that lead to products on Amazon and other companies may be affiliate links and we earn a commission if you make a qualifying purchase. Thanks in advance for your support!
| | |
| --- | --- |
| | UK readers please click here |
| | |
| --- | --- |
| | Canadian readers click here |
(Revised Monthly)
You can cut down your night time acid reflux by choosing the best wedge pillow.
This article details highly recommended products which will help you control your acid reflux – wedges tried and tested by other users.
It also gives you 1 simple tip for avoiding night time reflux which you can use tonight!
If you're in a rush, jump to our conclusions and recommendations.
Otherwise, read on…
Our Wedge Pillow Top Picks
These are our top recommended wedge pillows. For more details, use the links above to go to the section you are interested in.
Any recommendations we make are always based on either products we already own and use, or are carefully assessed in terms of their attributes and user feedback – criteria we use ourselves whenever we buy.
Where products sold by Amazon are suggested, they will have the following criteria at the time of writing:
Minimum of 4 stars
No more than 15% of all reviews are 1 or 2 stars
The product has a minimum of 100 reviews
We also highly rate products which have free shipping or are sold through Amazon Prime.
Here's are our Top Pick recommendations:
Wedge Pillow Top Picks
Top Pick LOWER HEIGHT

InteVision Extra Large Bed Wedge Pillow (33 x 30.5 x 7.5 inch)

Large size to prevent slipping
Memory Foam Layer
Washable Cover
Adjustable Head Rest
Amazon Choice

Top Pick MEDIUM HEIGHT

LUXELIFT Bed Wedge Pillow for Sleeping – Adjustable 12 inch or 8 inch height

Adjustable height
Gel top layer for coolness
Removable washable cover
Money back guarantee
Highly rated

Top Pick MORE HEIGHT

InteVision Foam Bed Wedge Pillow (25 x 24 x 12 inches)

More upright support
Washable removable cover
Removable headrest
Highly rated

Top Pick MATTRESS RAISER

Avana Mattress Elevator – Under Bed 7-Inch

Split design for easy installation
Ensures the whole bed slopes
Provides a gentle slope all along the body
Made in the USA
Very popular

Top Pick FOLDING WEDGE

Drive Medical Folding Bed Wedge
23 x 24 x 7 in

Carry handles
Cover included
Good value
Memory foam
Popular
Amazon choice

Top Pick INFLATABLE TRAVEL WEDGE

Travelwedge Inflatable Bed Wedge Pillow
32 x 30 x 8 in

Washable cover
2.2 lbs
Travel bag
Pump
Very popular
The Best Wedge Pillow for Acid Reflux, Snoring, Back Pain & Reading
Whatever the reason for propping yourself up at night, you need the best wedge pillow.
However, there is a bewildering array of pillows to choose from. We've filtered through the popular ones and set out what we think are the best wedge pillows below.
Whilst the ones we've highlighted can be used for a variety of purposes, we've looked at them with heartburn sufferers in mind.
In reviewing the wedges currently available on the market, it became clear that one size does not fit all; there is a wide range of sizes, and it is important to consider how big you need it. Generally speaking, the taller you are, the longer the pillow needs to be.
It also became apparent that some people love wedge pillows, and some just can't get on with them. It's trial and error, by the looks of things.
One thing is sure, however, using the best wedge pillow is a darn sight better than stacking up your normal pillows at the head of the bed.  At the very least it gives you a firm base on which to put your normal pillow.
Acid Reflux or Heartburn
Heartburn (also known as acid reflux) is a common condition in which stomach contents go back up into the esophagus. A persistent cough, and throat problems are some of the most common symptoms of acid reflux.
The causes of heartburn or acid reflux vary widely between individuals. Age, diet, lifestyle and physiological factors can all play a part.
When heartburn occurs frequently, it can turn into chronic gastroesophageal reflux disease or GERD. Common symptoms include asthma, vomiting, nausea, dental erosion, and pain when swallowing, etc.
This condition can be really painful, and even dangerous if not treated and managed properly in a timely manner.
The medical profession's first line of attack against GERD is medications and antacids. However, there are a host of changes to one's life which could make things better – just take a look at any of the links on this website.
Night Time Reflux
Night time reflux is common as a result of the body's prone position resulting in more pressure on the valve at the top of the stomach.
One simple tip for reducing or even avoiding this is to sleep on your left side; as this illustration demonstrates, by sleeping on your left side the acid in your stomach is more likely to remain below the point where the stomach joins with the esophagus.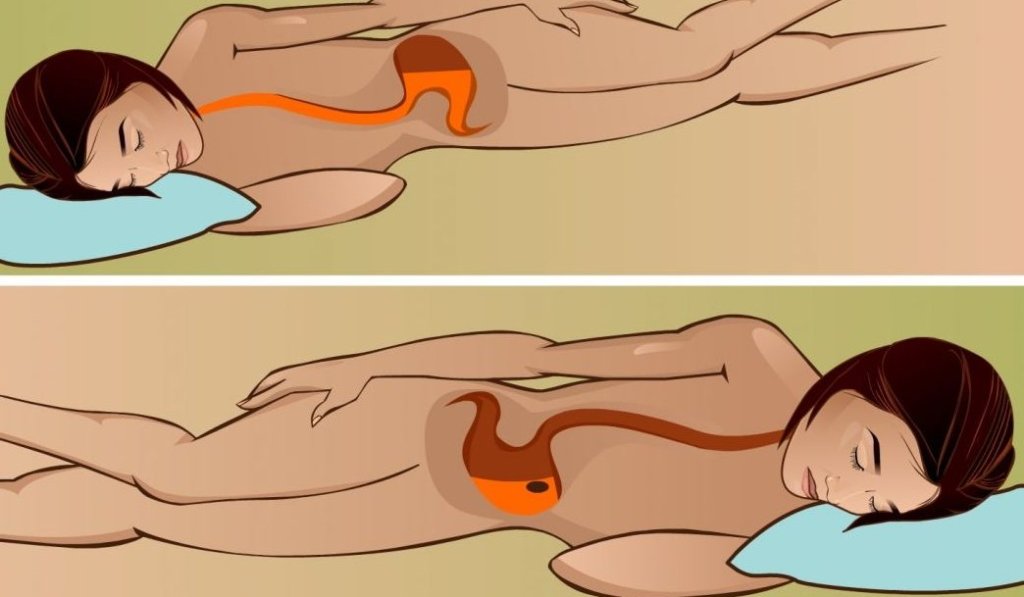 What also can help you with relieving night time symptoms of GERD and acid reflux is a GERD sleeping wedge pillow. This is backed up by the literally hundreds of reviews for wedge pillows mentioning positive improvements to users acid reflux symptoms.
In this article we look at the best wedge pillow for your specific purposes.
How Does a Sleeping Wedge Pillow for Acid Reflux Work?
These pillows work in a simple way. Compared to standard pillows, where your body is in horizontal position, wedge pillows or cushions generally lift the upper part of your body in relation to the rest of your torso. Because of this, the acid is less likely to come back into the esophagus.
Wedges can vary in height, but generally they are between 7″ and 10″, with varying lengths, to suit different users. A couple of brands provide full length wedges; the makers argue that this avoids the bend at the stomach which can result from using too short a pillow – this could exarcerbate reflux in some people.
I personally use one which is 8″ (20 cm) high, 32″ (81cm) long and 30″ (76 cm) wide, which I find adequate and is the best wedge pillow for my needs. If I do need more height – say if I'm feeling particularly uncomfortable with acid reflux – I'll supplement this with normal pillows.
Types of Wedge Pillow
As I mentioned, there are varying heights and lengths of pillow. Pillows vary also in terms of material, and firmness. There are also travelling varieties, which come either as folding solid pillows, or inflatable.
It's also possible to buy matress raisers – wedges which you can put under the matress – and bed raisers. Bed raisers go under the bed legs at the head of the bed. All of these perform the same function and have the same result – you sleep on an incline.
One notable concern by a number of users is the risk of sliding down the pillow during the night and ending up in a crumpled heap at the bottom of the bed. I think this is more likely to happen with the shorter wedges with steeper gradients, as gravity will take over. It would also help to have a non slip cover on the wedge.
The Best Wedge Pillow Reviews
Since buying a good wedge pillow can be a daunting task, we've reviewed a wide range of pillows which are highly rated by their users, so that you're more likely to find the best wedge pillow for your needs.
We start with the lower, shorter, pillows, and then look at the pillows with more height if you need it. We move on to review the bed and mattress raisers, and finally wedge pillows for travelling.
---
Lower Wedge Pillows
The first has many great reviews, and is a good size, with a gentle slope.
---
This is a novel development of the traditional wedge pillow. It is adjustable in height, either 8 in or 12 in, depending on your own particular needs and comfort. It is highly rated by its users, who seem particularly swayed by its features.
---
Higher Wedge Pillows
At 12 inches, this is a good example of a higher pillow for more upright support. This pillow is made up of 2 layers, plus a removable headrest. The top layer is made with memory foam, which means that your neck and shoulders shouldn't be painful when you wake up in the morning. 
It comes with a washable cover, which will avoid extra expense.
As a bonus, the pillow comes with a removable headrest.
InteVision sell a longer version of this pillow, at 33″ compared with 25″, here
Also a lower version of this pillow – 7.5″ compared to 12″ – can be found
here
---
Mattress Raisers
Rather than a wedge pillow, have you considered a mattress raiser? These go under the mattress to raise the head of the matress for acid reflux sufferers. Here's two of the best we could find – one made of plastic, and the other of foam material:
The Wellness Wedge is a lightweight plastic wedge which goes under the mattress. It has 2 parts,which enables the mattress to be raised either 2.5 inches, or 5 inches when the two parts are used together.
One thing to watch is that if you have a double bed, and you want the head to be raised by the maximum 5 inches, you will need to buy 2 packs.
---
This is a foam wedge which is placed under the entire width of a queen sized or king sized mattress. It is 7 inches in height at the head end. 
---
Wedge Pillows for Travelling
We also took a look at wedge pillows to take with you travelling. These can either be folding, or inflatable.
Folding Wedge Pillows
The best wedge pillows which fold for travelling we found, with over 4 stars, were:
---
The Intevision folding wedge comes with a headrest and a carry bag, and is well thought of by its users.
---
The Drive Medical Folding Wedge is also currently an "Amazon Choice" and highly rated by users. It is higher than the Intevision pillow.
---
Inflatable Travel Pillows
If an inflatable pillow sounds more attractive – less bulky, easier to pack – then you might like to consider taking one of these along on your travels.
However, be warned – some of those that are available are not as highly rated as the foam types; mainly, it would seem, because of their reliability – some appear to deflate at the wrong times, and their design is uncomfortable to some.
We bought one to test – It was not a good experience. It was too small, flimsy, and very difficult to blow up and deflate. So much so that we gave up using the pillow, and returned it.
So, which are worth considering? The following are the best travel wedge pillows available at the moment with 4 stars or over in the reviews:
Very highly rated by its users, this inflatable travel pillow is distinquished from the competition by the fact that there are no complaints about it deflating unexpectedly at the time of writing.
---
This is a popular inflatable wedge travel pillow, some users clearly love it and use it at home as well.
---
This is a novel inflatable pillow for acid reflux. It inflates to raise the whole of the head of your existing mattress, similar to an adjustable bed (at a fraction of the cost), to a height chosen by the user. It raises the mattress head by up to 26″ high, and to 40 degrees.
---
Conclusion
So what is the best wedge pillow for acid reflux? There is a wide choice available, and we've tried to pick out the more popular wedges, and give you a balanced view. Your final decision will no doubt rest (excuse the pun) on a mixture of its size, what you want to use it for, higher ratings and cost.
If you travel a lot, ideally you will want to buy a pillow which serves both your packing needs, and your comfort at home. In contrast, if you travel only occasionally, you will probably want to steer away from inflatable pillows and go for a more dependable foam wedge.
As for size, this may be more trial and error to find what suits you best. If you're not sure, perhaps the best route is to get a lower pillow, and supplement it with your own pillows. That's what I do.
DISCLAIMER: This information on this site is for guidance only. It is not a substitute for professional medical care by a qualified doctor or other health care professional. ALWAYS check with your doctor if you have any concerns about your condition or treatment. I am not responsible or liable, directly or indirectly, for ANY form of damages resulting from the use (or misuse) of information contained in or implied by the information on this site.